At Furbellow & Co, as well as selling the finest gentlemen's fashion, we offer a range of gentlemen's grooming services from our barbershop in Whitby.
Our traditional barber Jon is currently available on Mondays, Tuesdays, Thursdays, Fridays and Saturdays offering a range of services from a beard tidy to a complete restyle. Whether you're after a hair cut or a traditional wet shave, Jon is a meticulous barber who will have you looking ship shape in no time.
You can book an appointment using the booking form or call us in the shop at 01947 600610.
| | |
| --- | --- |
| Monday | 10am - 5pm |
| Tuesday | 10am - 5pm |
| Wednesday | ~ |
| Thursday | 10am - 5pm |
| Friday | 10am - 5pm |
| Saturday | 10am - 5pm |
| Sunday | ~ |
Book an appointment
---
Barbershop Services
Haircut

£16

Take pride in your look, visiting your barber every two to three weeks for a tidy-up allows you to always look perfectly groomed.

Restyle

£20

Take the opportunity to explore an alternative style to what you usually request. Our barber is trained to the highest standard with an in depth knowledge of hair growth patterns and head shapes, creating the perfect style to suit the individual.

Traditional Wet Shave

£25

Relish in the definitive shave package with a specialist straight razor shave appointment

You will be provided with an attentive skin analysis, have a treatment with the best pre-shave oils around and have your skin and beard prepared for shaving with a hot towel. Using luxurious shaving creams you will be lathered in preparation for the straight razor shave. To complete the service you will have the finest post shave oils, balms and creams to leave your skin feeling revitalised, renewed and invigorated.

Beard Sculpting

£6 - 10

Love your beard that little bit more with a specialist beard sculpting appointment

Your beard will be treated with some of the best pre-shave oils around, prepared with a hot towel then shaped to perfection. To complete the service you will be treated with the finest post shave oils, balms and creams to leave your skin feeling revitalised.

Little Dudes (under 10)

£8

It's just as important for the little dudes to look as dapper as their Dads, our experienced child friendly barber can provide your little dudes with that extra special experience in the chair.

Young Chaps (Under 16)

£12

The road to coming of age has never been so important than it is now, indulge your Little Chaps in the world of male hair grooming.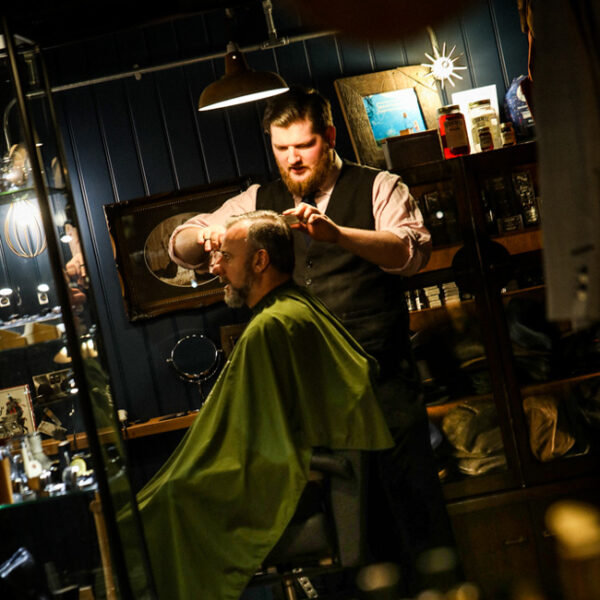 Book an appointment
---
We'll be back soon
In light of recent events we've closed our store and barbershop until the further notice.
We are still delivering our excellent selection of grooming products around the UK for you to keep your beard ship shape. You can also support us by buying a gift voucher.
In the mean time, check out our blog explaining how to grow a beard.
Thank you for you co-operation. We are very much looking forward to welcoming you back as soon as we can.
Stay safe and well, from all of us at Furbellow & Co.
---
---